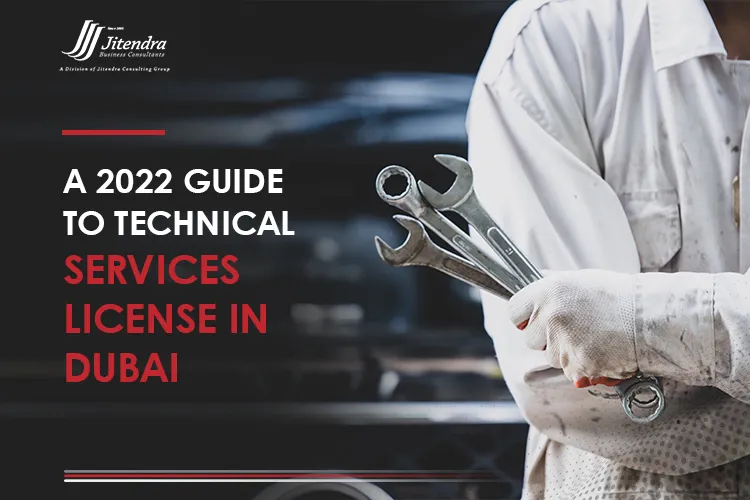 A technical service license in Dubai mainland refers to a type of commercial license issued to companies carrying out an umbrella of activities including installation works on ceilings, plumbing, painting, carpentry etc. The landscape of business setup in Dubai mainland is ideal for technical service works owing to the high demand from both commercial and residential sectors. The process of obtaining a technical service license can be easily navigated with the help of business setup consultants in Dubai.
If you want to shift to Dubai to start a technical service business, it is imperative to understand certain rules, procedures and requirements. Read ahead to know some of the key prerequisites for obtaining a technical service license in Dubai mainland:
Know the Technical Service Activities
The regulations of business setup in Dubai demand the entrepreneurs select the right activity while applying for a license. You need to check the activity list by the Department of Economic Development (DED), which is the authority issuing technical service licenses in the Dubai mainland. The technical services license permits the following activities:
Air conditioning, ventilation, and air filtration services
Carpentry and flooring
Concrete works
Corporate cleaning services
Electrical fitting and fixtures services
Floor and wall tiling works
Installation and maintenance
Insulation contracting
Solar energy systems installation
Technical services contracting
Installation works for false ceilings and light partitions
 Glass and aluminium works
Plumbing and sanitary
Metal parts erection
Steel products works
Plaster, insulation and other technical works
How to Apply for a Technical Services License in Dubai?
The DED has designed certain steps which the entrepreneurs must follow to obtain a technical service license in Dubai mainland. You may find some steps to be complex, and others simple. However, you can apply for a trade license through business setup consultants in Dubai to easily navigate each step. Give serious consideration to the following steps to quickly receive a technical service license in Dubai:
1. Choose a Business Activity 
The first step of business setup in Dubai requires you to choose the right activity that matches your business plan. You can browse through DED's list of permitted business activities to select the activity accurately. Otherwise, you can ask business setup consultants in Dubai to help you out with the selection of business activities.
2. Determine the Legal Structure 
You need to determine the legal structure of your proposed technical service company in the next step. Depending on the number of shareholders, it could be a sole proprietorship, Limited Liability Company (LLC), Civil Company, etc.
3. Choose a Name for the Company 
After identifying the appropriate legal form, you may proceed to choose a trade name for your company. The company name should align with the naming guidelines of the DED to ensure fast approval. Business set-up consultants in Dubai can help you assess whether or not your business name conforms to the DED rules.
4. Apply for Initial Approval 
In the next step of business setup in Dubai, you are required to apply for DED's initial approval. The initial approval certificate is required to prove that the DED has cleared the incorporation of your proposed company. You can quickly obtain the DED initial approval certificate by applying through the best business setup consultants in Dubai.
5. Rent an Office Space in Dubai 
Since it is a mainland license, entrepreneurs are required to rent an office space in Dubai. A tenancy contract must be signed and get it registered with Ejari. Company formation specialists in Dubai can assist you with renting office space.
6. Obtain External Approvals If Applicable 
If your business activity falls under special activities, you need to obtain external approvals from relevant ministries or government departments. The approval certificate should be submitted to the DED to obtain the license of the technical service in Dubai mainland.
7. Issuance of Technical Service License
In the final step of company formation in Dubai, the DED will issue the mainland technical services license. Investors who applied through business setup experts in Dubai can get the license quickly.
Hire the Best Business Setup Consultants in Dubai
Obtaining a technical services license in Dubai presents lucrative business opportunities for foreign investors. However, the assistance of leading business setup consultants in Dubai such as Jitendra Business Consultants (JBC) is essential for foreign investors to navigate the UAE laws and regulations. JBC has years of experience in helping foreign investors open companies in Dubai. We offer bespoke business setup services in Dubai such as business setup consultation, document drafting, visa processing, bank account opening, corporate finance services etc. Our compliance services include Economic Substance Regulation (ESR), Ultimate Beneficial Ownership (UBO), Anti-Money Laundering (AML) etc. We can help you to give a wing to your dream business venture in Dubai or anywhere in the UAE.