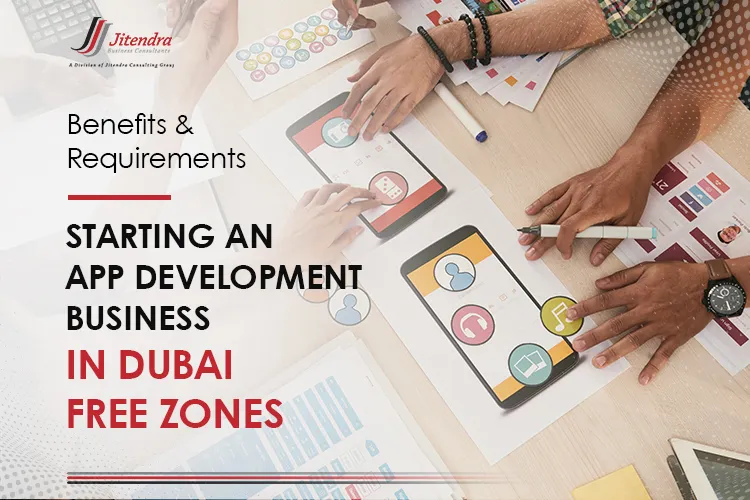 At a time when mobile applications have become an unavoidable element of our daily lives, Dubai has created a favourable climate for startups focussing on mobile app development. The conducive atmosphere of business setup in Dubai has attracted many startups to open an office in the emirate. Moreover, startups can easily complete the legal requirements with the help of business setup consultants in Dubai.
As per recent estimates, the value of the global app development industry is currently estimated at USD 110bn and projected to grow up to USD 407bn by 2026. The UAE growth figures are also in line with that of the global estimates. Reports suggest that the UAE will soon account for 60% of the burgeoning app development market in the Middle East. Moreover, setting up a business in Dubai allows app development companies to leverage unparalleled benefits such as low taxation, 100% foreign ownership, robust infrastructure, ease of doing business, strategic location and easy access to lucrative markets of Europe, Asia, Middle East and Africa etc.
Since an app can be developed and traded anywhere in the world, a free zone will be the right choice for establishing a company. So, if you're thinking of opening an app development company in Dubai free zones, here is everything you need to know.
Benefits of starting an app development business in Dubai, UAE 
The benefits of starting an app development company in Dubai are plenty as the emirate offers a wide range of opportunities for entrepreneurs. Getting to know the benefits beforehand will help you determine whether you have made the right decision while choosing Dubai as your preferred destination. Consulting with business setup consultants in Dubai will help you assess the benefits and opportunities. Meanwhile, some of the benefits of setting up an app development company in Dubai are listed below:
The straightforward company formation process
Availability of coworking spaces and Flexi desks to run the business from
Best free zone infrastructure for technology-based companies
Opportunity to collaborate and network with other tech businesses
Incubation and mentoring opportunities in free zones
High rate of smartphone penetration as around 82% of the UAE's total residents own a smartphone
The UAE leads in the rate of app downloads in the Middle East region
Dubai has a dedicated policy for digital transformation
Coding professionals and developers are eligible for Golden Visas
Tech events like Gitex offer the opportunity to showcase products/ services and attract customers
Setting up a Mobile App Business in Dubai, UAE 
The top reason why foreign investors choose Dubai to open a business is the ease with which they can obtain a trade license. Even though the process of business setup in Dubai involves a set of streamlined steps, you can navigate it easily by gaining knowledge about the legal requirements. Business setup consultants in Dubai can guide you through the entire process and requirements. The following is everything you must know about setting up a business in Dubai:
Choose a free zone 
The process of business setup in Dubai involves the strategic decision of choosing between the mainland or free zone options. Setting up a business in Dubai mainland allows you to trade anywhere in the UAE. However, a free zone allows you to trade within the free zone premises or engage with international trade.
Mobile app development companies usually target International customers and company formation in Dubai free zones will be a better option for the investors. In such a case, you can consider free zones such as Dtec, Dubai Internet City, Dubai Silicon Oasis (DSO) etc for a trade license. These free zones also offer Flexi desk options and other facilities for your startup. Company setup experts in Dubai can assist you in obtaining a trade license.
Decide on a Business Activity 
You need to select from the business activities offered by the relevant free zone authorities. Free zones offer a wide range of activities related to the development of mobile apps. You can check the activities with the help of business setup consultants in Dubai.
Choose a name for your business 
As per the regulations of business set up in Dubai, you must choose a name for your business. The name must be unique and should not contain blasphemous or obscene words. Violating the naming guidelines may lead to the rejection of your license application.
Choose a legal structure 
In the next step, you must choose a proper corporate structure for your proposed company. The legal structure depends on the number of shareholders in your proposed company. Free zones mainly offer corporate structures such as Free Zone Establishment (FZE) and Free Zone Company (FZC).
Choose an office space 
A free zone license usually comes with the option of choosing a coworking space or a Flexi desk. Depending on the size of your team, you can select the best office space option for your app development company. Coworking spaces in free zones come with the most modern facilities and amenities. Once it is finished, you can submit the relevant documents and obtain a license.
Consult with the Best Business Setup Consultants in Dubai 
The landscape of business setup in Dubai offers a wide range of benefits for foreign entrepreneurs planning to open an app development company. Moreover, getting assistance from business setup consultants in Dubai such as Jitendra Business Consultants (JBC) will make the process easier for the entrepreneurs. JBC's highly qualified consultants can help you establish a new company in Dubai by assisting with visa processing, selecting business activities, choosing the right free zone, drafting the legal documents etc. We help you to simplify the process of company formation in Dubai.