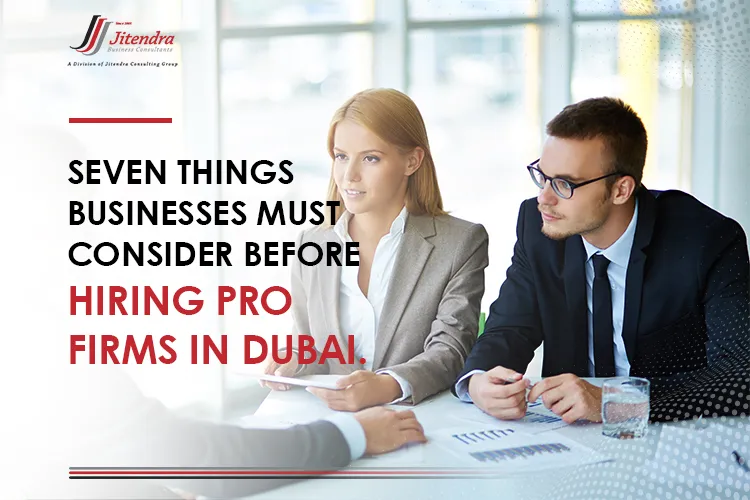 Incorporating and running a business in Dubai is all about being agile. But running around government departments to get every paperwork done on time can be quite baffling. To set up business in Dubai without any hassle, you need the services of the best PRO firms in Dubai. However, there are hundreds of companies offering PRO services in Dubai which means you need to apply some tactics while choosing the right one for your business needs.
If you are wondering about how to choose the right PRO firm to get your documentation done, we have got your back. In this article, we will provide you with valuable insights on the seven major things you must consider before hiring the best PRO companies in Dubai.
1. Know about the competition
The flexible business policies in the emirate have increased the influx of foreign investors into Dubai. To emerge successful in a global commercial hub like Dubai, you need to outsmart your competitors. You need to carry out a market search to understand the competitors in your industry and how they are navigating their documentation requirements. Almost every foreign company in Dubai, outsource PRO services in Dubai instead of an in-house PRO professional. Understanding how your competitors handle their PRO requirements will lead you to reliable PRO companies in Dubai.
2. Know about the law of the land
The rules governing the running of a company differ across the world. Foreign investors need to have good knowledge about the law of the land before applying for a trade license in Dubai. You must understand the UAE immigration laws, labour laws, and the rules set out by the different licensing authorities before hiring a PRO service provider. Understanding the business laws will enable entrepreneurs to understand what kind of PRO services they require to successfully incorporate and run a company in Dubai. By doing so, you need to only pay for the services you require.
3. Experience Counts
Choosing the best for your business is essential while outsourcing PRO services in Dubai. The PRO is the key factor that links your company with the government. Therefore, you need to ensure the PRO firm has years of experience in the UAE. To get approvals done fast, the PRO should have established a good rapport with the relevant government departments and ministries. Lack of experience may cause delays in getting government approvals on time.
4. Do Your Cost-Benefit Analysis
Hiring a PRO company in Dubai need not be an expensive affair. You can select the firms offering the best services matching your budget. However, the cost of hiring PRO firms in Dubai may vary depending on the quality of the services being offered. Therefore, it's advisable to estimate the cost ratio to benefits you are incurring and gaining, respectively.
5. Check the Success Stories
Dubai is a global commerce hub dotted with hundreds of consultancies that offer PRO services. However, it will be difficult for you to assess their efficiency and reliability without carrying out market research. You can check the success record of those firms by either contacting their previous clients or googling their testimonials.
6. Take the Agreement Seriously
Once you have identified a PRO firm matching your requirements, it is imperative to discuss the terms and conditions related to the delivery of services. It makes sense to read every clause and section of the business agreement before shaking hands with the PRO companies in Dubai.
7. Have a Clear Path for Business Outcome
Before hiring PRO companies in Dubai, you must be clear about your company's vision, goals, values and objectives. This will enable you to hire a PRO firm that shares a similar set of vision, goals, values and objectives.
Jitendra Business Consultants Offer the Best PRO Services in Dubai  
Businesses need to hire the best PRO firms in Dubai to incorporate and run a business without any legal roadblocks. PRO companies in Dubai such as Jitendra Business Consultants (JBC) can help you easily navigate your visa processing, license approvals and renewals. However, identifying reliable providers of PRO services is a tough task in a big city such as Dubai.
As a leading provider of PRO services in Dubai, we can carry out on your behalf key requirements such as renewals and expiry dates of trade licenses, checking the updated policies and regulations regarding labour, immigration, chamber of commerce and other related government institutions. We can help your company easily connect with government ministries and departments, enabling you to effortlessly meet your daily operational requirements.