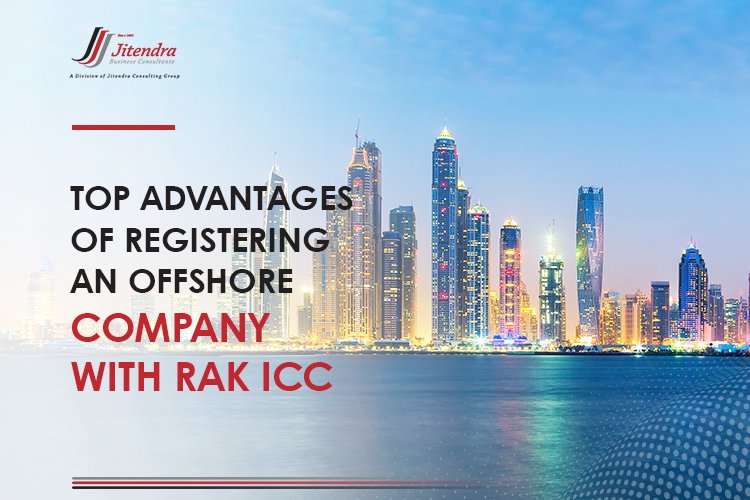 Foreign investors aiming for offshore company formation in the UAE can consider the Ras Al Khaimah International Corporate Centre (RAK ICC). Located in Ras Al Khaimah, RAK ICC is known to be one of the fastest-growing International corporate registries in the region. Foreign investors prefer to register an offshore company with the RAK ICC owing to its global reputation, cost-effectiveness, compliance with local & International regulations and excellent professional services.
The RAK ICC offers more benefits to international investors and some of those advantages will be discussed in this blog. However, you need to appoint registered agents in the UAE to open a RAK ICC company. Read ahead to know the "Top advantages of registering an offshore company with RAK ICC":
1. Absolute Ownership Control
You can start a RAK ICC offshore company with 100% ownership. Foreign investors planning a RAK ICC offshore company incorporation need not look for a local partner. Having 100% ownership in their company gives the investors much-required peace of mind as they don't need to worry about any kind of ownership dispute in the future.
2. No Restriction on Type of Shares
RAK ICC doesn't impose any limitations on the type of shares or shareholders. For example, if an investor setting up a Company Limited by Share (LCS) is allowed to issue bonus shares, partly paid shares or nil paid shares. Foreign investors setting up an offshore company in RAK ICC won't have restrictions on the number of shareholders and also have the ability to register the share pledge. Moreover, they will be allowed to have a corporate director and no attestation is required for corporate documents. Registered agents in the UAE can shed more light on the shareholding rules set out by the RAK ICC registry.
Related: Role of Registered Agents in UAE Offshore Company Formation
3. No Minimum Capital
If you start a UAE mainland company, you will be required to deposit a minimum level of capital. The capital needs to be stated in the Memorandum of Association (MoA) and should be deemed sufficient to 'achieve the purpose of the company incorporation.' For certain businesses, such as a public stock company, you will be required to deposit a minimum of AED 30 million. However, offshore company incorporation in RAK ICC involves no minimum capital requirement. Moreover, there is no restriction on the repatriation of capital and profits.
4. Easy to Open a Bank Account
Opening a bank account in the UAE or internationally is a big challenge faced by investors. The extensive KYC procedures followed by banks to comply with Anti-Money Laundering (AML) laws have made the process of bank accounting tough for international investors. However, investors setting up a RAK ICC offshore company can open corporate bank accounts within the UAE and hold them internationally as well. Since the RAK ICC company will be already considered a UAE entity, the normal extensive attestation of corporate documents for foreign businesses isn't required.
5. Efficient Legal System
Foreign investors can have access to an efficient legal system as the RAK ICC operates as per  Common Law legislation. It means companies registered with RAK ICC will have access to the Common Law Courts of the Abu Dhabi Global Markets (ADGM), the Dubai International Finance Centre (DIFC), as well as the local courts in Ras Al Khaimah.
Access to such a legal system ensures that companies are compliant with local and international laws at all times, and their investments in other countries are fully protected. RAK ICC's strong links with the DIFC and ADGM courts make it easier for investors when it comes to the migration or continuance of existing corporate entities from other jurisdictions.
6. Cost-effective Registration
The cost of setting up a RAK ICC offshore company is much lower than compared with other international registries. Foreign investors can also benefit from cost-effective renewal fees in RAK ICC. The cost of office space can also be minimized since each company can have a registered office space within RAK ICC. The address of the registered agents in the UAE will be the registered address of the RAK ICC companies.
7. Taxation Benefits in RAK ICC
By registering an offshore company in RAK ICC, foreign investors can access a wide range of UAE Double Tax Treaty (DTT) networks. At present, the UAE Ministry of Finance has signed over 200 tax agreements, including 123 to avoid double taxation and 87 to protect current investments.
Register a RAK ICC Company through Registered Agents in the UAE
The process of setting up a RAK ICC offshore company involves a series of requirements. Registered agents in the UAE such as Jitendra Business Consultants (JBC) can make you easily navigate such procedures. JBC has been providing quality registered agent services in the UAE for years, and hundreds of companies have benefited from our services. Consult with us today to avail of our seamless, robust and affordable offshore company formation services in the UAE.