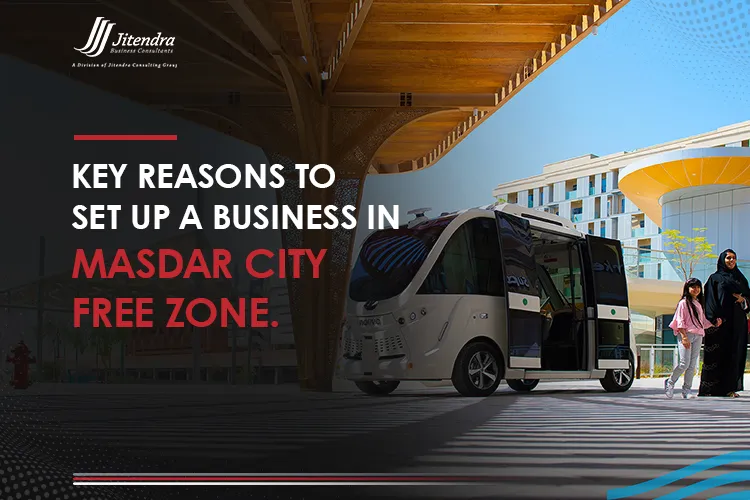 100% ownership reform introduced for the mainland companies seems to have forced the free zone authorities to rethink their marketing strategies. Complete foreign ownership has been the unique selling point of the free zones for years but the new reform has challenged their competitiveness. However, reports suggest that the free zones that changed their strategies have generated good results by attracting several new companies. Masdar City free zone in Abu Dhabi is one of the free zones that developed robust strategies to make the process of business setup in the UAE attractive for foreign investors.
The free zone has introduced cost-effective business setup packages to navigate the competition from mainland licensing authorities. As a result, more companies have registered in the free zone in 2021 and more are expected to join in 2022. As of 2021, the free zone is home to around 1,110 firms and another 200 companies are expected to join this year. Let's find out why foreign investors line up to set up a company in Masdar City Free Zone
Cost-effective Business License Packages
The cost of business setup in Masdar City can be easily afforded by businesses of all sizes, thanks to a wide range of company formation packages. Investors started making a beeline to the free zone when Masdar City announced low-cost business setup packages. The highlight of Masdar City free zone is its 'Package A', which offers a business license for as low as AED 1000. Entrepreneurs can choose up to two activities, but the package comes with a zero visa option.
The free zone also offers a Women Entrepreneurship Program package, which provides a cost-effective option of company formation in Masdar City for businesswomen. The Women Entrepreneurship package can be obtained at a licensing fee of AED 6,000. It is one of the most cost-effect free zone licenses in the UAE, offering four activities and one visa. Consult with business setup consultants in UAE to obtain this package without any hassle.
Affordable Business & Leasing Options in Masdar City
Foreign investors require excellent facilities and flexible office spaces to set up a business in free zones. Masdar City free zone offers world-class facilities and office spaces for businesses of all sizes. The modern infrastructure in Masdar City free zone can be leased by developers, investors and occupiers as per their business requirements.
Masdar City free zone offers a diverse range of leasing options, such as buying or leasing development plots, creating flexible office and retail spaces. The leasing process can be made hassle-free by availing of bespoke business setup services in Abu Dhabi. Stated below are the top facilities available for company formation in Masdar City:
a). Bespoke Office Spaces
b). Sizable Plots of Land
c). Build to suit Spaces
Wide Range of Business Activities in Masdar City
Foreign investors need not worry about choosing a license in Masdar City as the free zone offers a wide range of business activities. Foreign investors need to be meticulous while choosing an activity as it is the most crucial aspect of business setup in the UAE. Selecting the wrong activity may adversely impact the business plan and it is advisable to hire the services of business setup consultants in Abu Dhabi. Stated below are some of the popular business segments for which license applications are accepted in Masdar City:
Renewable Energy
Clean Tech and ICT
Marketing and Events
Human Resources
Energy Industry
Healthcare Services
Service Providers
Property Development Services
Regional HQ, trading and holding companies
Business Centre and Data Centres
Oil and Gas Services
Retail, Food and Beverage
Masdar City to Host First Space Hub
The UAE Space Agency and Masdar City have signed an agreement on 20th January 2022 to create a Space Tech Hub to facilitate research and development and promote entrepreneurship in the space sector. Space Tech businesses in Masdar City will get benefits such as incubation, office space, mentorship, networking, investment opportunities, priority access to government contracts and closer cooperation with leading global research centres. Companies operating in Masdar City free zone can leverage the proximity to Space Tech Hub in the future.
Easy Business Setup Process
The process of company incorporation in Masdar City is straightforward and can be completed without bothering about government approvals. The process can be completed within a few days if the applicants submit all the mandatory documents. The assistance of business setup consultants in Abu Dhabi can be used to expedite the process.
Choose the Best Business Setup Consultants in Abu Dhabi
Even though the process of business setup in Masdar City is straightforward and flexible, going solo for company formation is not a sensible idea. Foreign investors who apply for a license without expert assistance may struggle with complex requirements of business setup in Abu Dhabi such as determining a legal structure, drafting and translating legal documents, visa processing, immigration clearance etc. This is why it makes business sense to choose the best business setup services in Abu Dhabi from Jitendra Business Consultants (JBC).
JBC is one of the leading business setup consultants in Abu Dhabi, UAE with over 20 years of commendable experience. We have a team of highly qualified company setup advisers who can help the investors navigate the complexities of UAE Immigration laws and labour laws. JBC has helped numerous SMEs, startups, individual entrepreneurs and MNCs to establish their presence in the UAE without any hassle. Our bespoke company formation services in the UAE include company registration & licensing, visa processing, bank account opening, VAT compliance, ESR compliance, UBO compliance and AML-CFT compliance.