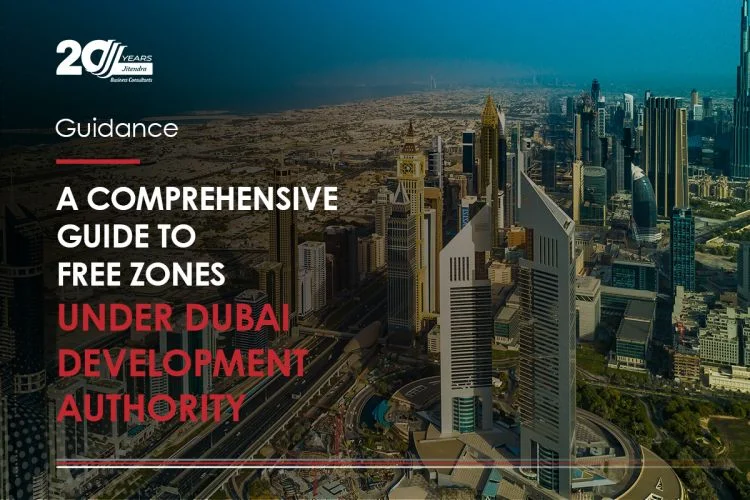 Barsha Heights is a free zone area that attracts foreign investors due to its metropolitan vibe that rhymes with the general lifestyle of Dubai. The process of business set up in Dubai's Barsha free zone area is regulated and controlled by the Dubai Development Authority (DDA). Foreign investors need to approach DDA to set up a business in any of the nine free zones the Authority regulates. Investors can consult with business setup consultants in Dubai to understand the licensing regulations set out by the DDA.
This article details the free zones regulated by the DDA, their features and requirements. Read ahead.
What's Dubai Development Authority?
As a foreign investor, it is important for you to understand DDA and its role in enhancing the landscape of business setup in Dubai. DDA is an entity created by the Dubai government as per No. 15 of 2014 and Law No 10 of 2018. The government body oversees the development control, municipal, economic and immigration functions across the free zone clusters located in the Barsha area. The Authority mainly focuses on three streams Real estate planning and development control, Regulatory & licensing services and Industry development.
Free Zones under Dubai Development Authority
There are nine purpose-built free zone clusters regulated by the DDA. Each of them caters to a specific industry or sector. They are:
Types of Companies Permitted in Dubai Development Authority
The legal structure of a company is determined by the nature of the shareholding structure. Depending on the number of shareholders, the following types of companies can be opened in the various free zones regulated by DDA.
Free Zone Limited Liability Company
Foreign investors can establish a Free Zone Limited Liability Company (FZ-LLC) in any of the clusters regulated by the DDA. An FZ-LLC is a separate legal entity with shareholders who can be individuals and/or corporates. The minimum capital requirement for incorporation is determined based on the business activity.
Branch of a Foreign/UAE Company
Companies that are already established in the UAE or abroad can open their branches in DDA-regulated free zone clusters. A branch company is not a legal entity separate from its parent entity. However, the DDA considers it as a place of business that forms a legally dependent part of the parent entity and carries out all or some of the operations of the parent's business. No share capital is required to set up as a branch.
Freelancer Permit
A freelance permit in DDA provides the applicants with the freedom to operate as a freelancer. The freelance license in DDA identifies the license holder as a sole practitioner and enables the individual to conduct their business under a birth name as opposed to a company name. Business setup consultants in Dubai can help you obtain freelance licenses from any of the DDA free zones.
Compliance Requirements in Dubai Development Authority
Companies operating under DDA-regulated free zones must check their compliance status with regulations including Economic Substance Regulations (ESR), Ultimate Beneficial Ownership (UBO) and Anti-money Laundering and Combatting Financing of Terrorism (AML-CFT). Companies that fail to meet such compliance requirements will incur penalties severe enough to damage their profitability and reputation. In some cases, non-compliance may attract trade license revocation and sharing of information with foreign competent authorities.
Liquidation of Companies Regulated by DDA
Apart from the process of business setup in Dubai, DDA also regulates the liquidation of companies operating under its supervision. Companies operating under any of the DDA clusters need to submit the board resolution, audit report etc., to the DDA. A company will be liquidated after the DDA approves the liquidation report.
Consult with Jitendra Business Consultants
DDA is a government entity that issues guidelines and rules of business setup in Dubai for companies operating under the nine free zone clusters. Companies need to obtain DDA clearance to set up a business in any of these free zone clusters. Some of the rules are complex, and some are simple. Foreign investors can seek the help of business setup consultants in Dubai to navigate these steps.
When it comes to the process of company formation in Dubai free zones, Jitendra Business Consultants (JBC) is the undeclared leader. JBC has a team of company formation experts who can help the entrepreneurs with all the requirements, including license approval, document drafting, the opening of bank accounts etc. JBC can help you open the company without any hassle.