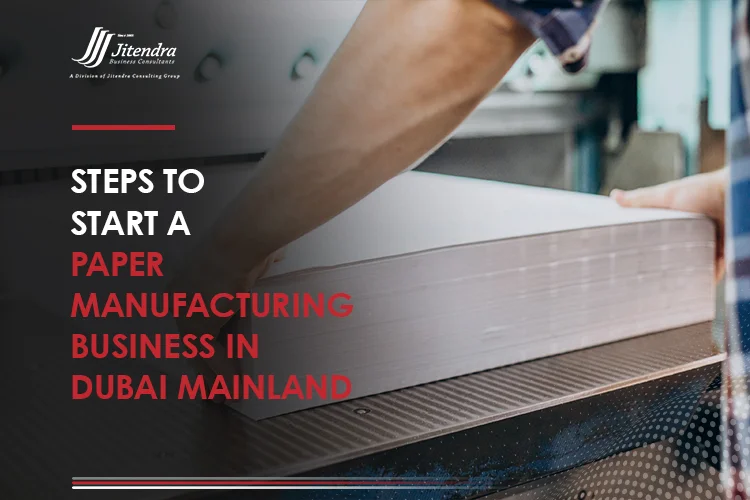 Setting up a paper and paper product manufacturing business in Dubai is a profitable idea as the Middle East is a strong market for the sector. The paper industry in the region is on a growth path buoyed by e-commerce proliferation and surging demand in the packaging sector. The restriction on single-use plastics is also considered a key factor for the growth prospects of the paper industry. However, you need to be aware of the rules and regulations governing the process of business setup in Dubai to expedite the incorporation process.
Foreign investors who are new to the region may find the requirements for company formation in Dubai rather complex. However, business setup consultants in Dubai can advise them on how to navigate such requirements. This blog will further enlighten you on the type of license you should obtain and the relevant steps you must take to set up a paper manufacturing business in Dubai mainland. Keep reading to gain valuable insights:
What Type of License You Must Obtain?
You need to obtain a Paper & Paperboard Manufacturing license (Activity Code: 1701002) to open a paper manufacturing company in Dubai mainland. This is an industrial license issued by the Department of Economy and Tourism (DET), which is the competent authority regulating business activities in Dubai mainland. The activities permitted under the Paper & Paperboard Manufacturing license in Dubai includes the manufacture of the journal, writing, drawing, typing, and packaging paperboard, made of wood, paper residues or fibers pulp. Business consultants in Dubai can help you apply for a license without any hassle.
Steps to Obtain a Paper Manufacturing License in Dubai
Getting a Paper Manufacturing license in Dubai involves some streamlined steps put in place by the DET. Not carrying out any mandatory step or committing any error will delay the process of company registration in Dubai. You can familiarize yourself with the following steps to expedite the process of setting up a Paper Manufacturing business in Dubai mainland:
Select an activity from the DET list
Choose a name for the company
Determine an appropriate legal structure
Obtain initial approval from DET
Rent or lease a manufacturing unit at an appropriate location
Apply for special approval with the Dubai Municipality
Submit all the documents and pay the fees
Receive the paper-manufacturing license
Why You Should Obtain Dubai Municipality Approval?
Obtaining approval for special activities is a critical aspect of company incorporation in Dubai mainland. Manufacturing paper and paper products are categorized as a special activity due to the risk it poses to the public. The activity may have an impact on the environment if not carried out in line with the relevant standards and regulations. Dubai Municipality is the competent authority that examines whether the applicant has complied with all the applicable standards and regulations stipulated by the government. Company formation consultants in Dubai can assist you with this process.
Things to Remember for Getting Municipality Approval
Obtaining external approvals for an industrial license in Dubai mainland can be a complex task. However, you can navigate this crucial step by familiarizing yourself with the Dubai Municipality regulations. You need to get environment clearance for the license from the Department of Environment at Dubai Municipality. You need to make the payment and submit the following documents to obtain environmental clearance from Dubai Municipality:
Registration and licensing application form.
Details of Business Site Location from DET and stamped by DM-Planning Executive Department
Initial Trade Name Reservation Certificate
Initial approval enquiry receipt (for a new license)
Hire the Best Business Setup Consultants in Dubai, UAE
Starting a paper manufacturing business in Dubai mainland is a complex process that involves approval from Dubai Municipality. The process of business setup in Dubai can be lengthy for manufacturing licenses but it can be minimized by seeking professional advice. Business setup consultants in Dubai such as Jitendra Business Consultants (JBC) can guide you through the process. JBC is one of the leading providers of company formation services in Dubai with years of experience.
We can guide you on the permitted activities, available legal structures, mandatory approvals, visa processing, corporate bank account opening etc. Our highly qualified consultants can also advise you on the UAE immigration law and labour laws. Furthermore, we can help you with compliance requirements related to UAE corporate tax, Value Added Tax (VAT), Anti-money Laundering and Combatting Financing of Terrorism (AML-CFT), Economic Substance Regulations (ESR) and Ultimate Beneficial Ownership (UBO). Open a company in Dubai hassle-free and fast with JBC's advice.