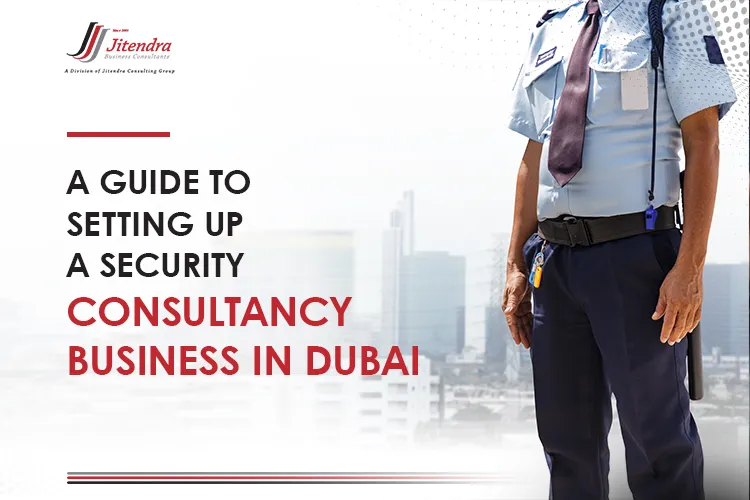 The environment of company formation in Dubai mainland is ideal for starting a security consultancy as all businesses, residential & commercial buildings, offices, and other entities require physical protection. Foreign investors prefer to locate their offices in buildings that offer 24*7 security, which increases the demand for security consultancy companies in Dubai. However, entrepreneurs wishing to start a security consultancy firm need to navigate a series of licensing procedures, for which they can consult with business setup consultants in Dubai.
If you are an investor planning to start a security consultancy company in Dubai, this article will help you with all the necessary details. Read ahead to know the requirements and steps you will be required to deal with while starting the business:
What is a Security Consultancy License in Dubai?
You need to obtain a Security Consultancies license to start your company in Dubai mainland. It is a professional license that permits activities such as providing security consultancies and studies, setting out security and technology solutions to ensure the safety of buildings and facilities etc. It also includes advisory on designing and laying out technical specifications.
The license comes under the broad activity group of "Building Maintenance, Surveillance and Cleaning services" with the activity code: 7490017. Since it is a professional license, foreigners can enjoy 100% ownership over their company provided they sign an agreement with a Local Service Agent (LSA). Company formation consultants in Dubai can help you with drafting the LSA agreement.
How Can You Start a Security Consultancy Company in Dubai?
You need to follow the standard procedures of business setup in Dubai to obtain a security consultancy license. The Department of Economic Development (DED) is the competent authority that issues a trade license for the mainland companies in Dubai. You need to fill out the application and submit it to the DED along with the mandatory documents. Business setup consultants in Dubai can help you with the mandatory steps that are listed below:
Select an activity
Choose a name for your company
Select an appropriate legal structure
Sign the LSA agreement
Get initial approval from the DED
Rent an office space and obtain Ejari
Get external approval if required
Submit all the documents and pay the fees
Receive the license
Is Any Approval Required for a Security Consultancy License in Dubai?
You may require external approvals for certain activities that are categorised as special activities. Depending on the activity you choose, you may have to obtain special approval from the Security Industry Regulatory Agency (SIRA). In some cases, you may be required to undergo a training course to obtain the SIRA approval.
SIRA approval is required for a wide range of activities including security guarding, security consultants, security dog handlers, CCTV operators etc. Applicants will be required to submit the SIRA approval to the DED to receive the trade license. You can discuss your activity with business setup consultants in Dubai to determine whether approval from SIRA is required.
Benefits of Starting a Security Consultancy Company in Dubai
As per a recent report by Grand View Research, the global physical security market is likely to reach USD 203.05 billion by 2030, growing at a CAGR of 6.1%. The absence of physical security may lead to higher rates of burglaries and thefts. Businesses need the services of security consultancy companies to safeguard the physical perimeter and individual assets, including expensive technological equipment.
Be it CCTV, lock and key, or security guards, having physical security is of paramount importance for businesses and buildings. The demand for physical security is robust in Dubai with a wide range of entities that need protection including homes, offices, commercial units and manufacturing facilities. It means starting a security consultancy company in Dubai is a highly rewarding business opportunity.
Consult with the Best Business Setup Consultants in Dubai
The landscape of business setup in Dubai is highly conducive for foreign investors to start a security consultancy company. However, the assistance of business setup consultants in Dubai may come in handy for foreign investors to deal with the local laws and regulations. When it comes to providing business setup services in Dubai, Jitendra Business Consultants (JBC) is the most trusted name. We have a team of highly qualified experts who can guide you on the UAE Immigration and Labour laws.
JBC offers a diverse range of services including drafting the license application and other documents, assisting with external approvals, processing the UAE residence visas, bank account opening etc. We also help you apply for UAE Golden Visas and Green Visas. JBC also helps the companies comply with recent regulatory requirements related to Economic Substance Regulations (ESR), Ultimate Beneficial Ownership (UBO) and Anti-money Laundering (AML) laws.