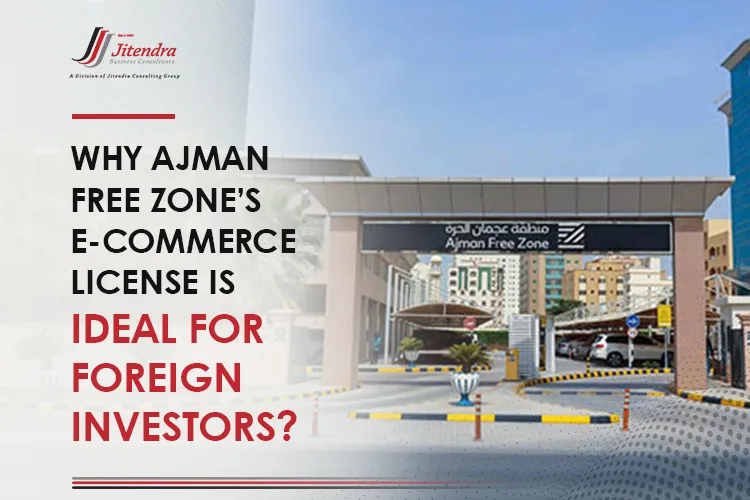 With a revenue of USD 11.5 billion in 2021, the UAE is currently the 27th largest market for e-commerce. This data from e-commerce DB, confirms that setting up an e-commerce business in the UAE is highly profitable. Another report by the Dubai Chamber of Commerce states that the UAE's e-commerce market is expected to be worth $9.2 billion in 2026, up nearly 92 percent from 2021.
Leveraging this positive economic outlook, Ajman free zone started issuing a cost-effective e-commerce license for entrepreneurs a few years ago. Obtaining an e-commerce license from Ajman free zone is the best way to reap profits out of online trading business. However, you need to understand the features of the license and the regulations of the Ajman free zone before applying for it. Business setup consultants in Ajman can help you navigate the rules and regulations governing the issuance of the license. Read ahead to know why Ajman free zone's e-commerce license is ideal for foreign investors:
Wide Range of Activity Segments
Before applying for a trade license in the UAE, you need to accurately select the activities you plan to carry out under the license. A license spanning a wide range of activities will make way for a flexible company formation in Ajman. The e-commerce license provided by the Ajman free zone covers the following business activities:
Industrial Equipment E-Trading
F&B E-Trading
Fashion Retail E-Trading
Home, Office & Personal Utilities E-Trading
Jewellery & Precious Stones E-Trading
Automotive E-Trading
Media Entertainment E-Trading
Events Ticketing E-Trading
Cost-Effective License for E-Commerce Firms in UAE
Ajman free zone offers a special package worth AED 5,600 for e-commerce start-ups in the UAE. Such a cost-effective e-commerce license in the UAE will help entrepreneurs start their businesses at an affordable rate, and speed up the whole procedure with integrated online services. Furthermore, they will get an exemption from registration fees as part of the free zone's efforts to incentivise the e-commerce sector in the UAE. Consult with business setup advisors in Ajman for more information on the cost of the Ajman free zone e-commerce package.
Access to Value-Added Services
Foreign investors can choose from Ajman free zone's e-commerce packages to trade their products and run their personal businesses online. By choosing an e-commerce license from the Ajman free zone, foreign investors and entrepreneurs can access value-added services such as cash on delivery, trading on third-party portals and online selling benefits.
Access to Ajman Free Zone's E-commerce Hub
Setting up an e-commerce company in Ajman's free zone allows entrepreneurs to access the facilities in the free zone's e-commerce hub. The Ajman free zone has established the E-commerce Hub to boost and support the e-commerce sector, offering limitless growth opportunities and potential market expansion. The e-commerce hub comes with the benefits of fiscal relief packages, digitized services, and cost-effective payments to drive the success of your business. The e-commerce hubs offer you facilities such as
Easy setup and guaranteed assistance
Co-operational spaces and executive offices
Exclusive digital access to Ajman Free Zone's wide array of services
Cost-effective payments
Fiscal relief packages
24-hour security and full accessibility
Networking opportunities with other entrepreneurs, potential clients and investors
Benefits of Operating in the Ajman Free Zone
Ajman free zone can be the right location to set up your e-commerce company on account of a wide range of reasons. Firstly, the free zone offers you the benefit of strategic location as you can enjoy easy connectivity to Ajman port, Sharjah & Dubai airports, and other major roads. Ajman is one of the most cost-effective emirates in the country to live, work or do business. You can also have other benefits such as 100% foreign ownership, easy connectivity to lucrative markets in the region, excellent facilities etc.
Be an E-Commerce Entrepreneur through Business Setup Consultants in Ajman, UAE
The UAE is a growing market for e-commerce businesses but you may miss the lucrative opportunity if you do not start your company in the UAE now. Ajman free zone offers one of the most-effective e-commerce licenses in the UAE which can be your key to business success. You need not worry about the free zone regulations and other requirements if you apply for the license through the best business setup consultants in Ajman such as Jitendra Business Consultants (JBC).
We are one of the leading providers of business setup services in Dubai with years of experience and thousands of satisfied customers from all over the world. JBC provides bespoke company registration services in Dubai such as bank account opening, visa processing, drafting of MoA and LSA agreements etc. By hiring JBC you can also have access to strategic company formation insights and value-added services such as advising on corporate tax, AML-CFT, UBO, ESR etc. Hire us to start a company in Dubai with zero hassle and headache.