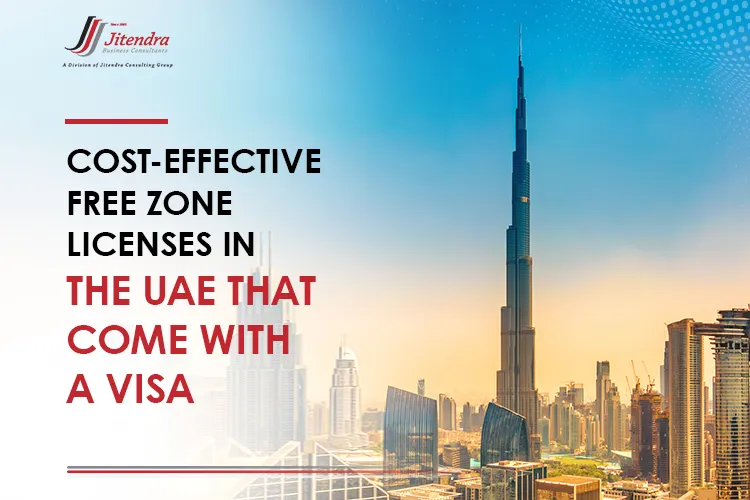 Foreign investors and entrepreneurs are interested in the landscape of business setup in the UAE free zones owing to a wide range of reasons including 100% foreign ownership, tax exemptions, ease of doing business, easy licensing procedure, strategic location and robust infrastructure etc. Yet, there are more than 40 active free zones in the UAE that provide almost similar benefits. However, most entrepreneurs look for the cheapest trade license in the UAE (that includes a visa) while scouting for an appropriate free zone.
Business setup consultants in Dubai can help you find out the free zones that offer cost-effective trade license packages for setting up your company. If the cost of a free zone license in the UAE is your top consideration, we can offer you a few attractive options. Read ahead to know what free zones offer the cheapest trade license in the UAE with a visa:
Cheapest Trade Licence in Dubai With a Visa
Meydan free zone offers the cheapest trade licence in Dubai with a UAE residence visa. The trade license offered by Meydan free zone costs AED 14,350 and provides you with one visa on the license. The package provides up to three free activities for the one-year LLC-FZ trade license. Investors interested in the process of business setup in Dubai should consider Meydan free zone packages for reasons including its proximity to key commercial and financial hubs including easy access to Dubai International Airport and major intersections.
The Meydan Free Zone is located near the Meydan Racecourse and inside the Meydan Hotel, which makes it an ideal business hub for international investors. By setting up a company in Meydan free zone, business owners can socialize and network with like-minded investors and leaders and collaborate on projects. Business setup consultants in Dubai can help the investors easily obtain a trade license from the free zone.
Cheapest Trade Licence in Sharjah With a Visa
The Sharjah Research Technology and Innovation Park (SRTIP) free zone offer one of the cheapest trade licences in the UAE with a visa. The free zone offers a trade license with one visa for AED 5,500. Established in 2016, the SRTIP Free Zone aims to develop and manage an innovation ecosystem that fosters Research and Development and promotes enterprise activities and the triple helix collaboration of industry, government and academia. By obtaining a trade license in SRTIP, entrepreneurs can avail the following facilities and benefits:
Entrepreneurs can access the Innovation Lounge at SRTI Park without any restriction
The fast-tracked company incorporation process
Availability of a wide range of business support services
Entrepreneurs can be part of professional networking events
Businesses can have a partner or collaborate with University City students and researchers
Investors can easily access local, regional and international markets to promote business growth
Cheapest Trade License in Ras Al Khaimah with a Visa
The Ras Al Khaimah Economic Zone (RAKEZ) also offers one of the cheapest trade licenses in the UAE with a visa. The RAKEZ SME package starts from AED 11,200 offering a free residence visa. The SME package in RAKEZ is ideal for businesses engaged in activities including trading, e-commerce, consultancy, media etc. The key benefits of the license package include
Online signing of Memorandum of Association
Access to multiple business activities
0% easy payment plan with banking partners
Wide range of workstations & offices to choose from
Lease agreements with all packages
Special cashback offer for residents of Ras Al Khaimah
Apply through the Best Business Setup Consultants in the UAE
The environment of business setup in the UAE free zones is ideal for all types of companies due to the availability of cost-effective license packages and a diverse set of activities. It would be a daunting task for the investors to find out cost-effective licenses but business setup consultants in the UAE such as Jitendra Business Consultants (JBC) can make the process easier for you. JBC's company formation specialists can provide the cost structure of all the free zones, which will enable you to pick the most cost-effective free zone in the UAE.
Moreover, our highly qualified consultants are well-versed in UAE immigration laws and labour laws, which will make the incorporation process easier for you.  JBC can help foreign investors prepare all the legal documents and get them translated into Arabic. We will help you to navigate the challenges of getting your visas processed and sponsor the visas of your dependents and workers. Our experts can also help you to comply with Economic Substance Regulations (ESR), Ultimate Beneficial Ownership (UBO) and Anti-Money Laundering and Combatting Financing of Terrorism (AML-CFT) laws.