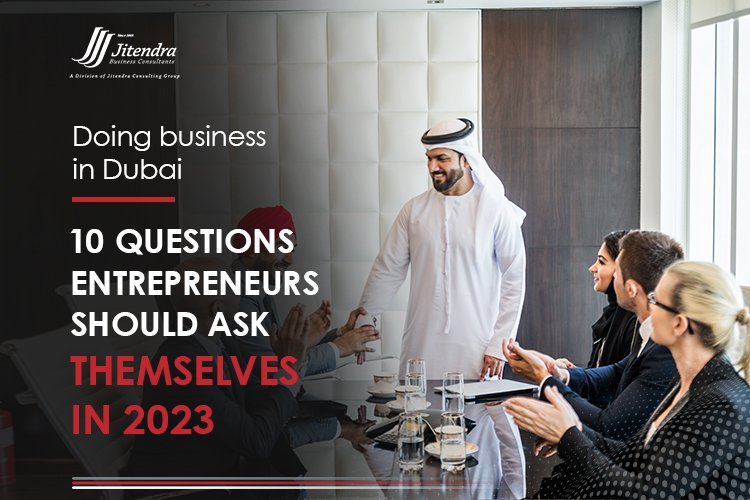 The landscape of business setup in Dubai is ideal for startups due to the ease of doing business, world-class infrastructure, government support, funding opportunities, presence of 40 plus active free zones with modern facilities etc. However, not all startups register business success due to varying reasons. However, lack of research and preparation can be the common element in all failed startups.
You need to have a precise and robust business plan to make your startup a success in Dubai. Business setup consultants in Dubai can help you with the legal requirements to incorporate your startup in the emirate. However, you should also do an introspection before applying for a business license in Dubai in 2023. This can be done by going through the 10 questions given below:
1. What is the problem the startup aims to solve?
Most entrepreneurs live with the notion that consumers are looking for an innovative product or service. As a result, budding entrepreneurs rack their brains day and night to bring out innovative products or services. However, they do not realize that people are searching for a solution to their problems. Therefore, you must identify the issues faced by the people and come up with a robust solution. The solution can be provided through a product or service. If a solution already exists in the market, you can look to solve another problem or offer a better solution than your competitor.
2. What impact do I want to make?
Setting up a startup in Dubai just for making a profit is an old-school thought. Even though profit should be your ultimate aim, you must also try to make some positive impact on society and the economy. The contribution you make to society and the economy will create a long-lasting legacy for you down the line.
3. Who can support me in my journey?
Starting a business in Dubai is no longer a one-man's job. You need to find the right people and support system to properly register a company in Dubai. You can hire business setup consultants in Dubai for a wide range of services that may help you start your company without any delay.
Company formation experts in Dubai can help you choose your business activity, and determine whether a mainland, free zone or offshore entity is ideal for you. They can also help you navigate the rules and regulations set out by the licensing authorities. You can also use their support for bank account opening, visa processing etc.
4. How big is my target audience/market?
Before starting a business in Dubai, you need to understand the nature of this market. Since it is an international market, your customers will be a mixture of expatriates of different nationalities and UAE nationals. You need to do market research before applying for your business license in Dubai in 2023.
5. Is my startup scalable?
The scalability of a startup is its capacity to maximize revenue while keeping costs to a minimum. Check if your startup is scalable before launching it in the UAE
6. Who else is joining me on this journey?
Having the right people will fuel your startup to success. Onboarding the wrong people can eventually kill your business. For your startup to get past the first hurdle, it is vital to have the right people as your partners. This will help you avoid any conflict of interest in the future.
7. Am I meeting compliance requirements?
The environment of company formation in Dubai has drastically changed in the past few years. Companies have to comply with a wide range of laws and regulations to avoid penalties and reputation damage. These include VAT compliance, UAE Corporate Tax, Economic Substance Regulations (ESR), Ultimate Beneficial Ownership (UBO) and Anti-Money Laundering and Combating Financing of Terrorism (AML-CFT) laws. Business setup consultants in Dubai can advise you on how to ensure regulatory compliance.
8. Have I thought about protecting my brand?
Branding is critical for any startup to register success in a competitive market like Dubai. You need to develop a brand and protect it through trademark registration to increase brand recognition, outpace competitors and attract a loyal customer base.
9. Who will do my finances?
While registering a company in Dubai, you need to have assistance from someone who knows the nitty-gritty of startup finances. If you lack the expertise, you can hire an accounting firm that can effectively manage your cash flow and keep you on the right track.
10. Do I have an exit strategy?
Most startups focus more on the business plan and ignore the importance of developing an exit strategy. However, potential investors will check if you have a clear exit strategy detailed in the business plan. Voluntary liquidation can be the best exit strategy for you as it can let you exit the operations satisfying the interests of all the stakeholders involved.
Hire the Best Business Setup Consultants in Dubai, UAE
Starting a business in Dubai is a huge undertaking. But if you start out by taking on board the answers to the above questions, you'll be on the right road to potential success and future growth. Moreover, business setup consultants in Dubai, such as Jitendra Business Consultants (JBC), can help you hassle-free register your company with the relevant authority.
JBC is one of the leading providers of business setup services in Dubai and across the UAE. We have sufficient resources to manage the requirements of entrepreneurs including determining a corporate structure, drafting legal documents, processing visas, opening bank accounts etc. JBC also provides regulatory compliance services related to ESR, UBO, and AML-CFT. Our highly qualified business setup experts can help foreign investors enjoy their business setup process without worrying about bureaucratic red tape and legal formalities.