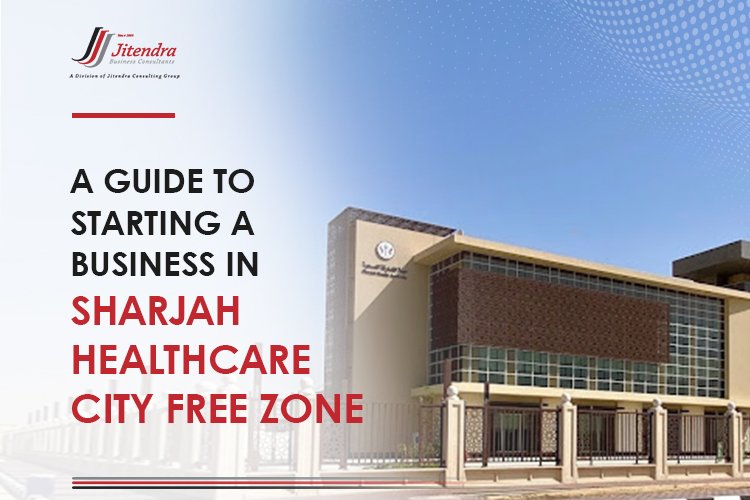 Sharjah is steadily emerging as a go-to healthcare investment destination due to the presence of the Sharjah Healthcare City free zone. The free zone presents exclusive benefits to foreign investors such as 100% ownership, excellent infrastructure, one-stop services, and hassle-free license approvals. Initiating the process of business setup in Sharjah Healthcare City also provides you with the advantage of having a prestigious address in Sharjah, which is one of the most affordable places in the country to live, work and do business.
However, you need to understand the rules and regulations set out by the free zone authority to register a company with Sharjah Healthcare City. This could be easily navigated with the help of business setup consultants in Sharjah. Now let us delve deeper into the process of starting a business in the Sharjah Healthcare City free zone:
What kind of businesses you can start in Sharjah Healthcare City?
Sharjah Healthcare City offers a wide range of licenses using which you can practice different kinds of business activities in the free zone. The licenses permitted in Sharjah Healthcare City include Healthcare License, Service License, Commercial License, and Industrial License. Business setup consultants in Sharjah can help you choose the right license. Given below are the type of activities permitted in Sharjah Healthcare City:
Hospitals, Clinics, and Day Surgery Centres
Diagnostic Centres, Rehab Centres
Healthcare-related consultancy services
Complimentary and Alternate Medicine Centres (CAM centres) such as Ayurveda, Homeopathy etc.
Wellness Centres
Retail Outlets
Import/export, consolidation, distribution and storage of healthcare-related products, equipment and accessories
Industrial support activities in the healthcare sector such as assembling, repackaging, production and re-export
What Facilities can I get in Sharjah Healthcare City?
Sharjah Healthcare City free zone offers the perfect infrastructure to set up any kind of healthcare facility. Let us have a look at some of those facilities:
Plots of land for lease to build healthcare facilities
High-end warehouses for storing and assembling medical equipment
Pre-built shell & core units for setting up clinics and laboratories
Offices & business centres
Is Setting up a Healthcare Business in the UAE Profitable?
The World Bank estimates that the UAE's population may grow from 9.4 million people in mid-2017 to almost 11.1 million by 2030, with an average life expectancy of 79.8 years. Moreover, the number of residents aged 65-plus is expected to increase from 1.1% to 4.4% by 2030. According to the statistics released by the Ministry of Economy, the UAE accounts for 26% of the total healthcare expenditure by the GCC governments and actively promotes medical tourism. The report also states that the UAE market boasts of an average of USD 1,200 in healthcare spending per capita, placing the country in the world's Top 20.  Moreover, the demand for healthcare in the GCC region is forecast to increase due to population growth, rising income levels, and the rise in the number of elderly people. Demand for hospital beds in the UAE  is projected to grow by 160% by 2025.
Benefits of Setting up a Business in Sharjah Healthcare City
The environment of company formation in Sharjah Healthcare City is perfectly ideal for investors in the healthcare industry. The following are some of the reasons why they should consider Sharjah Healthcare City for company registration in the UAE:
The free zone offers benefits such as 100% foreign ownership, zero duties, 100% repatriation of capital and profits and world-class infrastructure
Sharjah Healthcare City makes the licensing process hassle-free with a single-window service
Strategic location in Sharjah, which is the third-largest emirate in the UAE
Sharjah offers a cost-effective way of living and doing business
Proximity to airports, highways and seaports make SHCC ideal for import/re-exports and medical tourism opportunities
Choose the Best Business Setup Consultants in Sharjah, UAE
The process of business setup in SHCC offers interesting opportunities for professionals and investors in the field of healthcare and related fields. However, the licensing process may be delayed if investors are applying without any professional help from business setup consultants in Sharjah such as Jitendra Business Consultants (JBC). We have a team of highly qualified consultants who can advise investors on UAE labour law, immigration law and other regulations. JBC is one of the leading providers of the best business setup services in Sharjah and across the UAE.
Our team has sufficient resources to manage the requirements of entrepreneurs including determining a corporate structure, drafting legal documents, processing visas, opening bank accounts etc. JBC also provides regulatory compliance services related to ESR, UBO, and AML-CFT. Our highly qualified business setup experts can help foreign investors enjoy their business setup process without worrying about bureaucratic red tape and legal formalities.