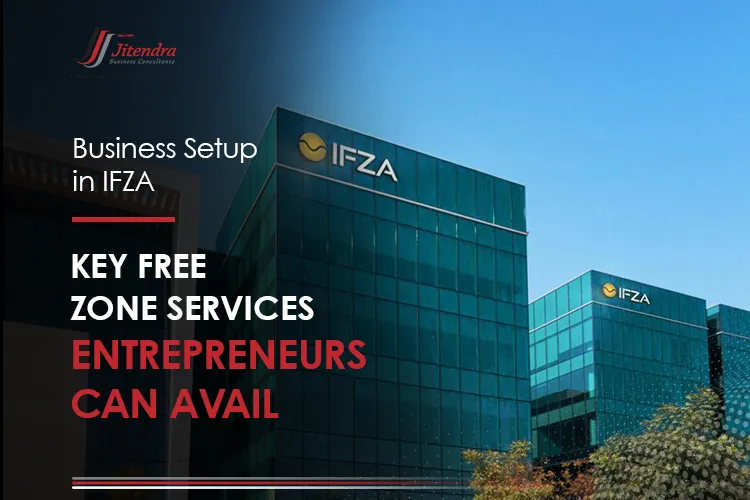 Foreign investors opting for business setup in Dubai free zones consider the wide range of services and facilities offered by each free zone before making the final decision. Most free zones offer all services under one roof and analysing the services on offer is critical before choosing a free zone for company formation in Dubai. International Free Zone Authority (IFZA) is one of the most popular free zones in Dubai offering a wide range of services and facilities for foreign entrepreneurs.
Business setup consultants in Dubai can advise you on how to get an IFZA trade license to leverage its various facilities and services. The below blog will enlighten you further:
IFZA Business Park
Foreign investors and entrepreneurs can have a premium address by setting up their offices within a world-class hub designed to meet their all business requirements. The IFZA Business Park is strategically located in one of Dubai's innovation-focused districts. By setting up a business in IFZA Business Park, you can work inside Dubai's first smart city featuring state-of-the-art LEED platinum-certified buildings. Company formation in IFZA Business Park will provide you with benefits such as fully furnished on-demand Flexi-desks, personalised offices, and modern warehouses.
IFZA has also designed robust commercial real estate solutions that will help you meet all of your requirements through different stages of business growth. The IFZA Business Park also offers a wide range of value-added facilities and services such as high-speed Wi-Fi connection, ample parking, meeting rooms, and event spaces for up to 200 participants. Furthermore, a wide range of residential, commercial, retail, fitness and health, and hospitality facilities are located within your vicinity. Company formation consultants in Dubai can offer more guidance on IFZA Business Park.
IFZA Money Services
Opening a bank account in Dubai is one of the most pressing challenges faced by businesses. The UAE bank account opening process became a tough nut to crack as banks began to amp up their KYC procedures to comply with the Anti-Money Laundering (AML) laws. If you are opening a company in IFZA, you get access to robust bank account opening solutions provided by the free zone.
IFZA Money is a newly-established division within the free zone that looks after the bank account opening requirements of the companies registered with the IFZA. IFZA Money simplifies the bank account opening process for IFZA-licensed companies utilising its relationships with various big banks in the UAE. IFZA also plans to launch additional cross-border, multi-currency banking solutions under the IFZA Money division.
IFZA LIFE Insurance Services
Getting medical insurance is critical for foreign investors and their dependents while shifting to the UAE. IFZA Life is a service designed to support investors and dependents by offering them medical coverage when they incorporate their companies into IFZA. IFZA's comprehensive medical insurance solutions come with exceptional benefits at competitive premiums, across five easy-to-understand tiers. Company formation consultants in Dubai can help you leverage this benefit.
IFZA Motors Services
The process of company registration in IFZA allows you to access exclusive benefits offered by the IFZA Motors services. Under these services, IFZA-registered firms can get access to a modern fleet of cars and transport solutions to support their business.
IFZA Technology Support
In this age of digital transformation, companies without access to proper automation will experience only slow growth. Successful companies have automated most of their processes including financial management and accounting. However, SMEs may be slow to catch up with the latest technologies that are bound to transform the world of business. IFZA eliminates this challenge for its companies by offering access to technology that can optimise their business operations. IFZA will provide access to solutions provided by ZOHO that will enable them to carry out all their processes on a single cloud-based platform that can be accessed from anywhere.
The IFZA Academy
The IFZA Academy is a training institute registered with the Knowledge and Human Development Authority (KHDA), which aims to hone the skills of investors and entrepreneurs. The iFZA Academy provides training in consultancy, human capital development and a diverse range of other specialized training and assessment solutions to entrepreneurs registering their companies in IFZA. Entrepreneurs operating in IFZA will also benefit from micro-learning opportunities such as customer service, sales, communication and government regulations.
You may also like: Business Setup in IFZA: 7 Reasons Why Investors Should Choose The Free Zone
Get an IFZA License through Business Setup Advisors in Dubai
Setting up a company in IFZA enhances your hopes of achieving business growth as the free zone offers a diverse set of services tailor-made for SMEs and startups. However, the process of company formation in Dubai involves many hurdles to overcome. Foreign investors can use the services of business setup consultants in Dubai to make the company incorporation process smooth and hassle-free.
Jitendra Business Consultants (JBC) can assist you with company registration, visa processing, MoA & AoA drafting, bank account opening etc. Furthermore, we provide services related to UAE Corporate Tax, Economic Substance Regulations (ESR), Anti-Money Laundering (AML) and Ultimate Beneficial Ownership (UBO) etc. JBC simplifies the company incorporation process in Dubai with our one-stop business setup solutions.