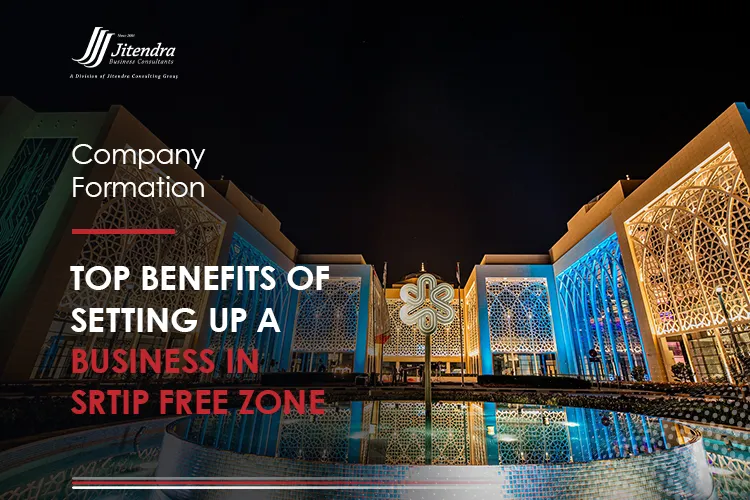 Setting up a business in Sharjah Research, Technology, and Innovation Park Free Zone (SRTIP) comes with exclusive benefits, especially cost-effective packages, 100% foreign ownership, strategic location, easy procedures, and modern infrastructure. Founded in 2016, the landscape of business setup in SRTIP gives more thrust to scientific research, technology and innovation. Foreign investors aiming for starting a company in the UAE can confidently select SRTIP due to the advantages it offers to foreign entrepreneurs. Business setup consultants in Sharjah can further guide you on the license procedures. Read ahead to find out the key benefits of registering a company with SRTIP free zone:
Cost-effective License with a Visa
Foreign investors concerned about the cost of setting up a business in the UAE often place SRTIP at the top of their list. SRTIP free zone offers one of the cheapest business licenses in the UAE that comes with a visa. SRTIP provides a trade license with one visa for as low as AED 5,500. Company formation experts in Sharjah can offer detailed insights on the free zone's license and visa costs.
Focus on Key Research Areas
Foreign investors planning to start a company in SRTIP can choose an activity related to key scientific and research areas. The process of company formation in SRTIP is founded upon six critical research areas that are vital to the progress of the UAE as well as the Middle East region. The critical research areas are:
Renewable Energy
Water Management
Environmental Technology
Transport & Logistics
Production Design & Architecture
Digitalization Solutions
Strategic Location for Businesses
The location serves as a key determinant while choosing the right free zone in the UAE as there are more than 45 active free zones in the country offering varied benefits. SRTIP has become the preferred choice of foreign investors as the free zone is strategically located between Sharjah Airport Road and University City Road. The free zone is blessed with a strong global logistics and transport network and is only five minutes from Sharjah International Airport and 20 minutes from Dubai International Airport. This excellent connectivity will come in handy for foreign investors who are into imports and re-exports. Moreover, it will enable easy transportation facilities for your customers and employees.
Special Package for Women Entrepreneurs
SRTIP is one of the few free zones offering special business packages for women entrepreneurs in the UAE. SRTIP's 'Women in Innovation' package is a subsidized package for women entrepreneurs specializing in the free zone's focus areas. The price of the package (license cost and fees excluding visa costs) is AED 9,000 as of October 2022.
The package offers benefits such as unlimited access to the free zone's Innovation Lounge, confined private areas exclusively for women, fast-tracked business establishment, business support services, and access to professional networking events and University City students and researchers. Consult with business setup consultants in Sharjah for obtaining this package without any hassle.
Business Support Services Under One Roof
The process of company incorporation in SRTIP gives you the benefit of accessing all the business support services under a single roof. The free zone has fully integrated services that will help you meet all your business requirements. The wide range of business support services in SRTIP will come in handy for you in all stages of your journey including application submission, company registration, facility leasing and business licensing. Company formation consultants in Sharjah can offer you additional support.
Availability of a Dual License
Even though the process of business setup in UAE free zones offers you multiple benefits, it comes with certain restrictions. The inability to trade freely in the mainland is the biggest restriction associated with company incorporation in UAE Free Zones. Companies licensed by a free zone are allowed only to trade within the free zone or internationally. SRTIP helps you navigate this restriction by offering a Dual License with which you can extend your business activities into the UAE mainland. Free zone companies with a  Dual License are not required to rent office space on the mainland as they can operate out of their free zone office.
Modern Infrastructure and Facilities
Since the free zone is an enabler of innovation, SRTIP offers modern infrastructure and facilities for foreign entrepreneurs. Office spaces and coworking spaces in SRTIP come with all the latest facilities and benefits such as furnished spaces, Flexi desks, on-site parking, meeting rooms, private working areas, free wifi, receptionist services, 24*7 security etc.
Support for Innovation
As the name suggests, SRTIP has been designed as a hub for fostering an innovation ecosystem in Sharjah as well as the UAE. The free zone has a dedicated innovation hub named Sharjah Open Innovation Lab (SoiLAB), which is well-placed to become the central hub for innovation that connects all stakeholders under one roof. SoiLAB is open to students, artists, entrepreneurs and tech enthusiasts. It offers access to a wide range of equipment from 3D printers to metal and woodworking machinery.
JBC can make SRTIP Company Formation Easy for You
Even though the process of business setup in SRTIP offers exclusive benefits, foreign investors need to deal with many requirements and regulations. Some of the complex requirements may delay the registration process but business setup consultants in Sharjah such as Jitendra Business Consultants (JBC) can help you. JBC is one of the top providers of business setup services in Sharjah with years of experience. We can help you meet key requirements such as bank account opening, visa processing, and regulatory requirements related to UAE Corporate Tax, Economic Substance Regulations (ESR), Anti-Money Laundering (AML) and Ultimate Beneficial Ownership (UBO) etc.