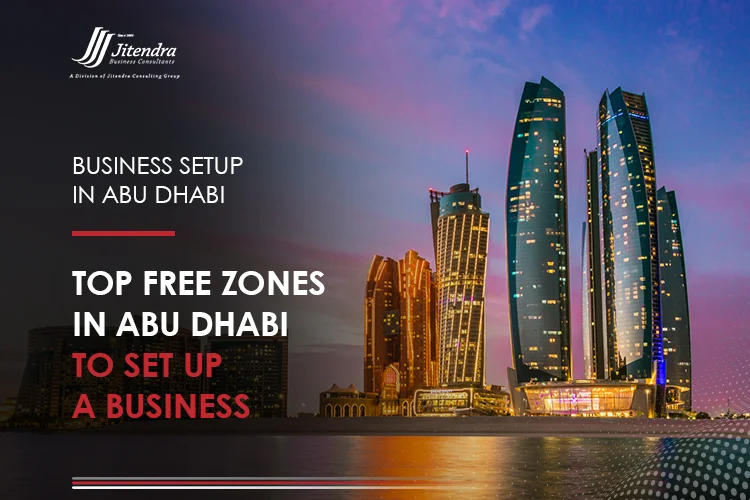 Abu Dhabi, the federal capital and the largest emirate in the UAE, is a global centre of a wide range of businesses and investments. The free zones in Abu Dhabi have played a key role in making the emirate a magnet for foreign investments in a variety of commercial activities. By commenting on the process of business setup in Abu Dhabi, foreign investors can open the doors to the lucrative Middle East region.
By choosing the free zones, the investors can run businesses with zero corporate tax, 100% foreign ownership, access to a cost-effective workforce and sophisticated infrastructure. Also, the assistance of business setup consultants in Abu Dhabi will make incorporation and legal compliance easier. Now, you should decide which free zone is better for you to start a company in Abu Dhabi. The answer to the question depends upon factors such as business activities, facilities, licenses etc.
Here is a list of all the free zones in Abu Dhabi that will serve as a guideline for your company formation plans.
1. Khalifa Industrial Zone Abu Dhabi
Khalifa Industrial Zone Abu Dhabi, popularly known as KIZAD, is an industrial powerhouse located within Khalifa Port which is one of the most advanced deepwater ports in the world. KIZAD mainly targets business sectors including petrochemicals, steel, pharmaceuticals, life sciences, chemicals, biotechnology, metals, food and beverages, logistics, transportation etc. The free zone provides industrial, trading and service licenses for investors seeking company formation in Abu Dhabi.
Investors who focus on exports, imports of re-export activities can take benefit from advanced transportation infrastructure such as sea, air, roads and rail network which ensure smooth accessibility to and from the industrial zone. Also, the free zone is close to both Abu Dhabi International Airport and Al Maktoum International Airport.
2. Abu Dhabi Airports Free Zone
Abu Dhabi Airports Free Zone ( ADAFZA) is a popular free zone in the UAE that's situated within the boundaries of Abu Dhabi Airport. The free zone is a favourite among industries such as electronics, engineering, logistics and cargo, aviation, aerospace, and pharmaceutical companies. The free zone is a top pick of foreign investors owing to factors including the proximity to Abu Dhabi Cargo Village and on-site customs inspection etc.
Moreover, Abu Dhabi Airport is one of the premium airports in the Middle East with services from more than 150 airlines. The free zone provides world-class facilities and infrastructure including warehousing units, commercial offices, furnished facilities within a fully serviced business centre, plots of land for development and a full range of essential ancillary amenities.
3. Abu Dhabi Global Market
Abu Dhabi Global Market (ADGM) is a financial free zone that offers investors the ability to operate under the common law system. The rules and regulations are based on the Common Law of England and Wales overseen by the ADGM Courts. Foreign investors who find the local laws or Islamic laws in the UAE tougher can set up a company in ADGM to operate as per the Common Law regime. ADGM is also popular among high-net-worth individuals (HNIs) as the free zone provides legal structures including Trusts, Foundations and other Special Purpose Vehicles (SPVs).
Being a financial free zone, ADGM is an ideal hub for financial businesses such as private banking, wealth management and asset management services. Apart from financial services, investors can pursue other activities such as legal and consulting services, accounting services, HR-related services and IT services in ADGM. The companies in the free zone are controlled and regulated by three authorities: the ADGM Registration Authority, the Financial Services Regulatory Authority and the ADGM Courts.
4. Industrial city of Abu Dhabi 
Industrial City of Abu Dhabi (ICAD) is a purpose-built industrial zone spread across an area that spans 40 square kilometres on the outskirts of Abu Dhabi. The industrial zone is regulated and managed by ZonesCorp, which is an Abu Dhabi Ports Company. Company formation in ICAD is ideal for manufacturing companies as the free zone is composed of multiple industrial clusters and vantage locations.
Around 400 manufacturing companies have set up businesses in ICAD that has generated jobs for 30,000 employees. ICAD currently has mainly five industrial clusters that bolster the manufacturing business setup in Abu Dhabi. Each of the clusters caters to specific forms of industries and the best business setup consultants in Abu Dhabi offer valuable insights into which cluster is better for the investors. Currently, the clusters are divided into:
ICAD I for heavy-to-medium manufacturing, engineering, and processing industries
ICAD II for light-to-medium manufacturing, engineering, and processing industries
ICAD III for light-to-medium manufacturing firms
ICAD IV for technology and light industries
ICAD V for Automobile Industry
5. Twofour54 Free Zone
Twofour54 free zone is considered a perfect ecosystem for media, entertainment and digital businesses. The twofour54 Free Zone is regulated by the Media Zone Authority (MZA) with a founding vision of elevating Abu Dhabi's position as a major player in the global media industry. The activities offered by the free zone include advertisement, animation, music production, broadcasting, content production etc. Furthermore, Twofour54 is one of the first free zones in the UAE to offer a license for Online Game Development (e-sports), which in recent times has emerged as a Sunrise Sector.
6. Masdar City Free Zone
Masdar City free zone is the first free zone in the region to place its focus on sustainability. That is the reason why the licenses and activities in Masdar City free zone are centred on the theme of sustainability. Moreover, the process of Masdar City's free zone is straightforward, attracting the attention of investors worldwide. The free zone offers activities such as:
Renewable energy
Cleantech and ICT
Marketing and events
Human Resources
Energy industry
Healthcare services
Service providers
Property development services
Regional Headquarters
Trading companies
Holding companies
Business centres and data centres
Oil and gas services
Retail, food and beverage
Company Formation in Abu Dhabi through Jitendra Business Consultants 
Abu Dhabi, the capital city of the UAE, is home to a handful of highly progressive and well-regulated free zones. The most striking feature of company formation in Abu Dhabi is that the investors can set up their businesses in industry-specific free zones. The best known free zones in Abu Dhabi such as KIZAD, ADGM, ADFZA, ICAD and Twofour54 serve specific sectors such as manufacturing, aviation, logistics, media etc. All free zones enjoy an international reputation and choosing one from many demands the assistance of business setup consultants in Abu Dhabi such as Jitendra Business Consultants (JBC).
JBC is one of the most experienced business setup consultants in the UAE with a presence across all seven emirates. JBC has a team of highly qualified business setup advisers who are well-versed in the laws and regulations, especially labour laws and immigration laws. The consultants will help the investors navigate requirements such as documentation, visa processing, bank account opening, Economic Substance Requirements, accounting and VAT registration. By enlisting JBC's business setup services in Abu Dhabi, company formation is no longer a tough nut to crack.