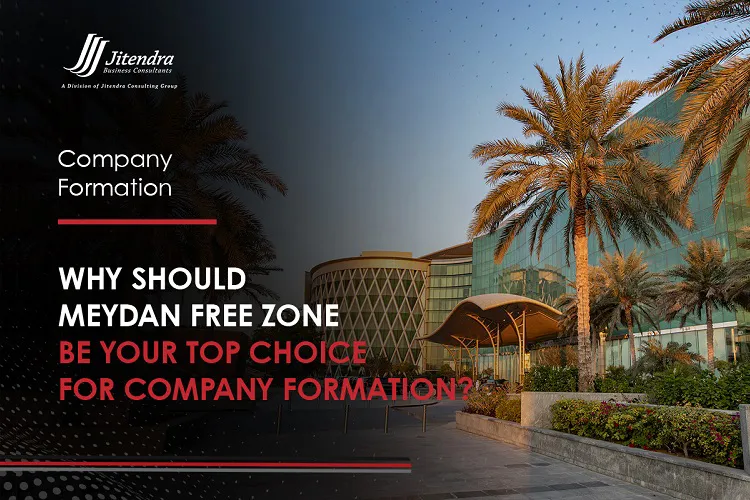 Free zones play a pivotal role in enhancing the environment of business setup in Dubai and ensuring the economic success of the UAE. As per the National Economic Register, free zones in the UAE grew by 4.4% in 2021. There are more than 40 plus free zones in the UAE and over 35 are in Dubai itself. Each free zone has its own unique features and targets a diverse range of businesses and entrepreneurs. Meydan free zone is such a free zone offering unique benefits and cost-effective licenses.
Established in 2009, Meydan Free Zone has steadily grown to become a thriving zone for foreign investors. Against this backdrop, it's worthwhile to probe the key reasons why the free zone should be the top choice of entrepreneurs aiming for company formation in Dubai. Business setup consultants in Dubai can assist you with further information on the free zone. Read ahead to know why you should opt for business setup in Meydan free zone:
Centrally located at the heart of Dubai 
Meydan free zone is strategically located within the iconic Meydan Hotel overlooking Meydan Golf Course and the horse racing track. It gives you a premium address and a posh location to bring your guests and clients. You can leverage the hotel's amenities to ace the deal-clinching meetings. The free zone is centrally located offering easy access and connectivity. Meydan free zone is just 15 minutes drive from the Dubai International Airport and 12 minutes from Dubai's buzzing downtown. The excellent connectivity makes it easier for you to travel to attend client meetings, or for clients and employees to reach your office quickly for work, meetings and important events.
An entrepreneur ready free zone 
The Meydan free zone authority has created a business-friendly ecosystem to attract budding entrepreneurs and investors. Entrepreneurs planning for company formation in Meydan free zone can run their businesses under a Limited Liability Company (FZ LLC) license issued by the free zone Authority. The free zone offers you umpteen opportunities to network with other businesses and innovative entrepreneurs, as well as partner with other companies operating in your industry. Business setup consultants in Dubai can help you quickly set up a business in the free zone.
Affordable Workspace Options 
A license issued by the Meydan Free Zone Authority gives you the opportunity to rent affordable Flexi Desks. Flexi desks in Meydan free zone is ideal for all types of businesses, such as startups, SMEs, and even corporate groups. Plug and play options such as Flexi desks create opportunities for low-cost business setup in Dubai. The co-working and boardrooms. Business setup experts in Dubai can provide you with valuable insights into the cost structure of Flexi desks.
A vibrant, world-class community 
The process of business setup in the Meydan free zone gives you access to a vibrant community that fosters growth through innovation and collaboration. The free zone pulsates with regular networking events that allow you to meet the professionals working with other companies operating within the free zone. You can also meet new customers, decision-makers and potential partners while attending these networking events.
Affordable Packages for Company formation  
The process of business setup in Medan free zone is appealing due to the cost-effective license options it offers. You can obtain a trade license in Medan free zone for as low as AED 12,500 that will permit you to operate within three business activities. If you pay AED 14,350, the same package can be obtained with a single visa allocation. Entrepreneurs who wish to expand the scope can obtain the same package at AED 23,600 with up to six visas. The free zone has tie-up with major banks in Dubai offering flexible payment options. Consult with business setup consultants in Dubai to choose the package wisely.
Get everything you need for e-commerce 
Companies can have exclusive access to Meydan Commerce, a unique, tailor-made solution for e-commerce businesses. By leveraging Meydan Commerce, you can easily place your products on  Amazon, Noon and other important e-commerce platforms of your preference. You just need to pay
AED 6,000 and the free zone will help you to set up e-commerce stores, optimise your product listings, and help manage order fulfilment, vendor management and delivery.
General free zone benefits
Apart from certain unique benefits, Meydan also offers all the common free zone benefits such as,
100% ownership
Zero personal tax
Complete repatriation of capital & profits
Modern infrastructure
All services under one roof
Easy process of business setup
Set up a Business in Meydan with Jitendra Business Consultants
Opting for a business setup in Meydan Free Zone provides you with a strategic base to realise your entrepreneurial ambitions. However, you may lose out on the key benefits if you are unaware of the free zone regulations and the UAE laws. This is where business setup consultants in Dubai such as Jitendra Business Consultants (JBC) come in handy for you. JBC has a team of highly qualified business setup experts who can advise you on the UAE immigration laws, labour laws and free zone regulations.
We will deal with major requirements such as visa processing, document drafting, bank account opening etc. JBC also offers value-added services such as Value Added Tax (VAT), trademark registration, corporate finance, ICV certification, product certification, accounting & audit etc. We can also assist you in compliance requirements such as Economic Substance Regulations (ESR), Ultimate Beneficial Ownership (UBO) and Anti-Money Laundering and Combatting Financing of Terrorism (AML-CFT) etc.