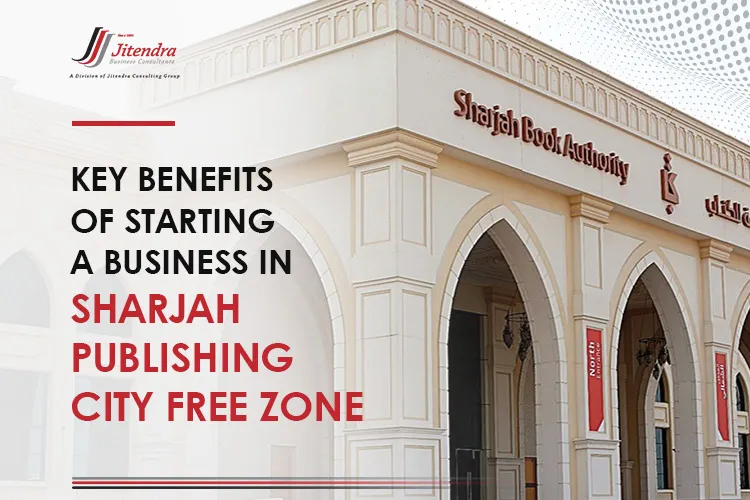 Foreign investors have a special interest in setting up a Sharjah Publishing City (SPC) free zone due to its strategic location in Sharjah and easy access to trade links across the wider MENA region. In 2021, alone, the free zone issued trade licenses to over 2000 companies from 106 countries. SPC is one of the few free zones in the UAE providing licenses to companies in the creative industries and it boasts of being the first free zone in the region dedicated to printing and publishing companies.
SPC free zone offers you all the common free zone benefits such as 100% foreign ownership and repatriation of profits. Moreover, company registration in SPC is easy with no bureaucratic delays. However, you need to know the full range of benefits offered by the free zone before applying for a business license in SPC. Business setup consultants in UAE can offer more insights into the free zone. Right now, let's focus on the advantages of setting up a business in SPC free zone:
The Free Zone is Strategically Located
Setting up a company in Sharjah offers key location benefits as the emirate is the perfect gateway to the Middle East, Asia, Africa, and other international markets. The companies benefit from SPC's unique location with coastlines both on the eastern and western borders of the UAE, an expanding network of destinations served by an international airport, and three seaports. Apart from this, Sharjah shares borders with all other emirates in the UAE enabling businesses based in the emirate to connect to over 10 million potential customers residing in the country.
Registration Process is Fast
The procedures for registering a company with the SPC Authority are flexible and straightforward. Foreign investors can get approvals for licenses within days without running around any government department. All the steps of business setup in SPC are streamlined to expedite the process of establishing companies. The speed of company incorporation in the SPC-free zone allows entrepreneurs to dedicate more time and effort to expand their reach regionally and internationally. Company formation consultants in Sharjah can assist you further with the company incorporation process.
You can Practice a Wide Range of Activities
By opening a company in SPC free zone, investors can choose from more than 1,500 activities that cover lucrative sectors including publishing, retail & wholesale and services & consultancy activities. Some of the notable activities under these sectors are:
Advertising, publishing of books, photography (Publishing activities)
General trading, e-commerce, wholesale of household goods (retail & wholesale activities)
Accounting, bookkeeping, & tax consultancy, management consultancy, educational activities (services & consultancy sector)
Packages are Cost-effective
SPC provides cost-effective business packages that are affordable for companies of all sizes including SMEs and startups. Business setup consultants in Sharjah can offer you insights on the cost of company incorporation in SPC.  The following are some of the latest business setup packages in the free zone:
One-year license with no visa at AED 6,500
One-year license with one visa allocation at AED 9,500
One-year license with three-visa allocation at AED 17,500
You Will Get World-Class Facilities
Apart from a wide range of profitable activities, the SPC-free zone provides you with robust facilities. The facilities in SPC are designed to match the specific requirements of businesses of all sizes. The modern facilities in SPC free zone include coworking spaces, office spaces, retail/ shell & core, warehouse spaces and storage spaces.
Investors Get Access to Unique Services
Since its inception in 2017, the free zone has attracted major players and businesses across the creative sector. The free zone offers a unified platform for publishers to complete all translation, publishing, and distribution activities and provides world-class services and advanced infrastructure to assist publishers including storage, logistics, and printing.  The free zone has launched the "Lightning Source Sharjah" which offers significant opportunities to expand access to books and content, and reach the Asian and African markets quicker and at lower costs.
Set up a Firm by Availing Best Business Setup Services in Sharjah Publishing City
The world-class facilities, affordable packages and easy licensing procedures have made the process of business setup in SPC highly attractive to foreign investors. Yet, entrepreneurs need to be careful while selecting the activities, packages and facilities. The risk of going wrong is high when entrepreneurs go solo while setting up a business in the UAE. This is where the assistance of business setup consultants in Sharjah such as Jitendra Business Consultants (JBC) comes in handy for the investors.
JBC's highly qualified consultants, on behalf of the investors, will handle complex tasks such as document drafting, visa processing, bank account opening etc. Investors who wish to initiate the process of business setup in Sharjah Publishing City are required to check their eligibility for certain compliance requirements such as Economic Substance Regulations, Ultimate Beneficial Ownership (UBO) and Anti-money Laundering (AML) compliance etc. JBC's business setup services in Sharjah will enable the investors to meet such compliance requirements in the best way.