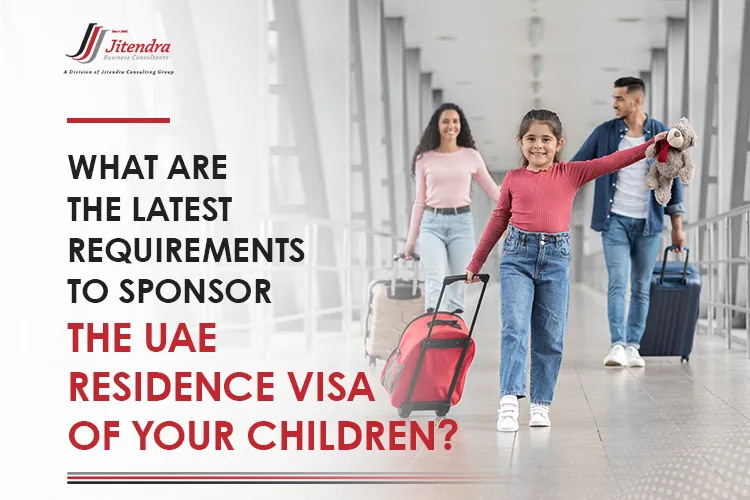 Expatriate residents are allowed to bring their wives and children into Dubai by sponsoring their UAE residency visas. You need to know the conditions and requirements for the sponsorship for which PRO firms in Dubai can offer bespoke assistance. Expatriate residents who meet a certain salary bracket can bring their dependents into Dubai through visa sponsorship. The article here describes everything you need to know about sponsoring your spouse and children. Read on.
What Are The Eligibility Criteria To Sponsor Your Wife And Kids?
Expatriates with a valid residency permit can sponsor the UAE residency visa of their spouse and children. The applicant, however, needs to have a minimum salary of AED 4,000 or AED 3,000 with accommodation to sponsor their spouse and children. The profession of the applicant is no longer a factor to sponsor the visas of children and spouses.
When To Start The Process?
Normally, an expatriate resident who wishes to sponsor his spouse and children brings them to Dubai on a visit visa or tourist visa. This means when the family lands in Dubai they will be provided with an entry permit by immigration. The expatriate resident has to change the visa status of the family to a valid resident visa holder. The expatriate has 60 days to apply for their dependents' residence visas after they enter the UAE. PRO companies in Dubai can undertake the status change process on behalf of the expatriate resident.
Requirements for Sponsoring Wife
An expatriate resident will be able to sponsor his wife only when he submits an authenticated marriage certificate to prove the marital relationship. The marriage certificate should be in Arabic or duly translated into Arabic by a certified translator. The residents can get the help of PRO firms in Dubai in case of translation requirements. In some cases, a Muslim resident is allowed to sponsor his two wives subject to General Directorate of Residency and Foreigners Affairs in Dubai (GDRFA) approval.
Conditions for Sponsoring Daughters & Sons
An expatriate resident is allowed to sponsor his daughters only if they are unmarried. They can, however, sponsor the visas of their sons until the age of 25. Previously, the residents were able to sponsor their sons only until age 18, and then renew the visa for another three years, provided they were studying at a university.
Can I Sponsor The Visas Of Stepchildren?
Expatriate residents are allowed to sponsor the visas of their stepchildren. However, you need to meet the conditions imposed by GDFRA such as a deposit for each child and a written no-objection certificate from the biological parent. The UAE residence visas of stepchildren will be valid for one year and can be renewed annually. PRO firms in Dubai can make the process of sponsoring children a hassle-free process.
Medical Fitness Requirements for your Family
Undergoing a medical fitness test is mandatory for obtaining a residence visa in the UAE. The medical fitness test is mandatory for all persons over the age of 18 to obtain a visa. However, a medical test must be carried out if only one month is remaining for the person to turn 18. Persons applying for first time-visa or renewal will be tested for HIV and pulmonary tuberculosis. Those who are found to have these two communicable diseases will be declared unfit and they will not be granted a residence visa.
Individuals found to have dormant or inactive pulmonary tuberculosis will be deemed as medically fit. However, they will be granted a one-year 'Health Fitness Certificate for Residence' subject to treatment and follow-up by the Department of Preventive Medicine or an equivalent government health authority. Applicants can avoid such shocks by carrying out a test in their home country before applying for a visa in the UAE. 
Documents Required to Sponsor Wife & Children
You need to arrange the following documents to sponsor your wife and children in the UAE:
Application form (PRO companies in Dubai take care of this)
Passport copies of the wife and children
Photos of the wife and children
Medical clearance certificate for the wife and children above 18
Copy of the husband's employment contract
Salary certificate from the employer with the employee's monthly salary
Legalised marriage certificate
Registered tenancy contract
Latest utility bill
Hire the Best PRO Companies in Dubai, UAE
Sponsoring the residency visa of your wife and children involves extensive paperwork, which can be simplified by applying through PRO companies in Dubai such as Jitendra Business Consultants (JBC). Being one of the best PRO firms in Dubai, JBC takes pride in helping out thousands of professionals and entrepreneurs by sponsoring their families. JBC's PRO services in Dubai minimize the complexities involved in requirements such as visa application, immigration approvals, typing of the documents, medical fitness test, and visa stamping.