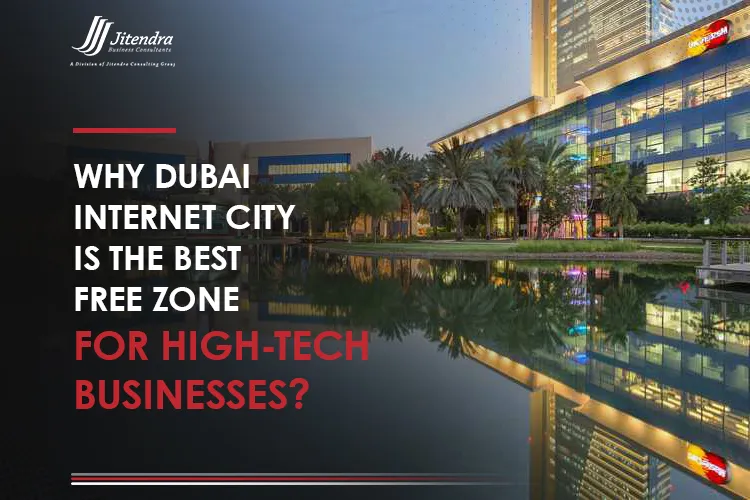 The demand to set up businesses in Dubai Internet City free zone is soaring as Dubai has bolstered its support for tech companies recently. The government's focus on digital transformation and digital economy has made the environment of business setup in Dubai Internet city conducive for high-tech businesses. If you are seeking to open a tech business within the free zone, business setup consultants in Dubai can make the process hassle-free for you.
Dubai Internet City was founded in October 1999 but opened its door for businesses in October 2000. Over the years, the free zone has become a hub of innovative tech startups and businesses due to key benefits such as a strategic location, robust infrastructure, strong regulatory structure, 100% foreign ownership, low taxation and more importantly easy incorporation. Let's explore in detail what Dubai Internet City offers for high-tech companies.
Strong Regulatory Structure
Just like any other free zone in the UAE, Dubai Internet City is regulated by an independent free zone authority. Dubai Internet City is regulated by the Dubai Development Authority (DDA) and managed by the TECOM Group. You need to approach the DDA for processes like implementing regulations, license issuance and renewal, liquidation etc. The regulations set out by the DDA are highly flexible, making it easier for entrepreneurs to conduct business hassle-free.
Strategic Location
One of the best advantages of setting up a business in Dubai Internet City is that you can operate in a strategic location. The free zone is strategically located at the heart of Dubai, providing easy access to Sheikh Zayed Road. The proximity to Sheikh Zayed Road makes business easier, as it is one of the major highways connecting key emirates in the UAE. By setting up a business in Dubai Internet City you can easily access other key trading hubs such as Abu Dhabi and Sharjah. The free zone's location also offers excellent connectivity through sea, air and land as well.
Wide Range of Business Activities
Opening a tech company in Dubai Internet City is a lucrative business proposition due to the favourable market conditions. Moreover, the free zone offers most of the major tech-related activities for company formation in Dubai. Some of the top business activities are:
Internet and Multimedia
Software
Telecommunication & Network
IT Services
Freelancer
Datacentre
Digital Marketing
Gaming & E-sports
Digital and Interactive Game Development
Gaming Publishers
E-sports Events
E-commerce
The list of activities presented here is not an extensive one as Dubai Internet City also provides other activities such as consultancy services, developer, customer support service providers etc. Business setup consultants in Dubai can help you select the right business activity.
Flexible Legal Structures to Choose From
Before planning to apply for a license in Dubai Internet City, the investors should understand the legal structures permitted in the free zone. The following are some of the activities permitted in Dubai Internet City Free Zone:
Free Zone Limited Liability Company
Branch of Foreign & UAE Companies
Freelancer
Robust Facilities in Dubai Internet City
Having a prestigious address and robust infrastructure play a key role in business success. Dubai Internet City offers a prestigious address and the best infrastructure for tech companies. Dubai Internet City offers the following facilities for investors:
Innovation Hub
Co-working Spaces
Retail Spaces
In5 Centres for innovative start-ups
Easy Setup Process
The process of business setup in Dubai Internet City is easy and flexible. Investors can obtain a license within a few days after submitting the business plan and relevant documents to the free zone authority. Business setup consultants in Dubai can help you expedite the process further.
Home to a number of tech companies
Dubai Internet City remains to be a popular free zone among tech investors as the free zone is home to tech giants such as Facebook, Google, Microsoft and IBM. Young entrepreneurs may get a chance to network or collaborate with stalwarts working with big tech companies.
Consult with the Best Business Setup Consultants in Dubai
The landscape of business setup in Dubai Internet City is ideal for tech investors planning to make their footprints in Dubai. Business setup consultants in Dubai, such as Jitendra Business Consultants (JBC) can help you easily establish a business within the free zone. Our highly qualified consultants can guide you through the process as they are well-versed in the UAE immigration laws and labour laws. We provide services such as bank account opening, visa processing, selection of office spaces, drafting of documents and PRO services. As a result, foreign investors establish their presence in the region without any hassle.